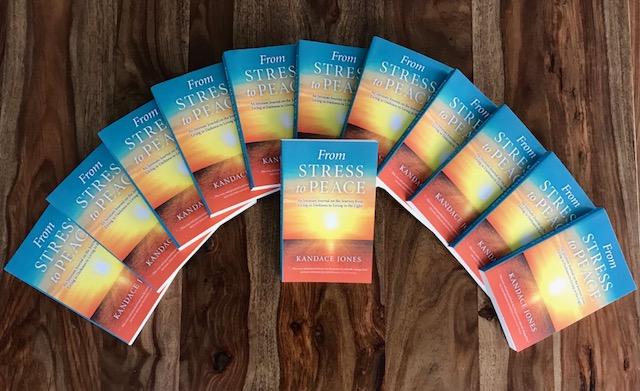 In celebration of 12/12, I'm giving away 12 copies of my book, From Stress to Peace: An Intimate Journal on the Journey from Living in Darkness to Living in the Light!
The book documents my journey out of depression and anxiety to peace of mind, and authentically details the process of transformation. On 12/12/12, as detailed in the book, I had a powerful spiritual awakening that left me with absolute certainty that we are much more than our bodies. We have a Power within us, and surrounding us in each moment, that is readily available to directly guide us in our daily lives if we learn to pause and hear the Still Small Voice.
If you've been feeling stressed, overwhelmed, out-of-balance, and are finding it challenging to stop the barrage of thoughts flowing in the mind – this is the book for you.
If you know someone that's been feeling stressed, and you're looking for the perfect gift, this is the book for you.
To enter to win a copy of the book, enter your information below by 9:00 pm EST on 12/12/17 (Any entries received after this time will be held for inclusion in future drawings). Twelve winners will be randomly selected, and notified by midnight. If you are selected, you will receive an email requesting the name and address of the person you would like the book to be sent to. All books will be autographed and addressed to the individual of your choice. Happy Holidays!
Update: Thank you to all who participated in the drawing. All winners have been notified. Stay tuned for additional giveaways!
Keep shining!
Peace & Infinite Blessings,
~Kandace
———————
Kandace Jones
———————
BLOG: http://www.kandacejones.com
FACEBOOK: http://www.facebook.com/livinginthelight
TWITTER: @coachkandace
INSTAGRAM: @iamlivinginthelight
I used to live life shackled by fear, doubt, and worry. I put on a happy face while navigating my day-to-day duties, but I was emotionally drained, stressed, and unhappy. When I hit rock bottom, and was diagnosed with depression and anxiety, I was determined to live life differently. I knew there had to be another way. Out of that determination, and guidance from Spirit, the "Living in the Light" blog was born. It documents my spiritual journey out of the darkness and into the Light. After nine months of publicly sharing my journey, and consciously releasing my attachment to the ego, I experienced a powerful spiritual awakening. I went from living in fear, doubt, worry, and stress to complete inner peace. My greatest passion has become assisting others on their own journey to inner peace. My spiritual memoir, From Stress to Peace: An Intimate Journal on the Journey from Living in Darkness to Living in the Light, is available now on Amazon and BN.com. Click the tabs at the top of the page to learn more about the From Stress to Peace 21-Day Challenge, Living in the Light Retreats, 1:1 sessions, and the Living in the Light Community - all of which are designed to support your journey to inner peace. I appreciate you taking the time to visit the blog and look forward to supporting you in any way I can!