Living in the Light Community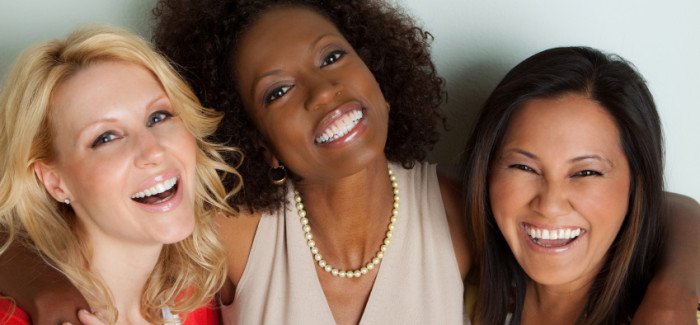 Are you committed to personal and spiritual growth, but find it challenging to stay focused on the path?  

Do you, despite prayer or reading inspirational books, still feel a lack of peace?

Have you found it difficult to settle your mind when trying to relax?

Do you have the desire to be fully authentic in all situations, without concern about what others think?

Are you ready to make a bold commitment for this to be the year that you return to peace?

Would you love to be connected to a loving, supportive community of women who are also committed to the same goal?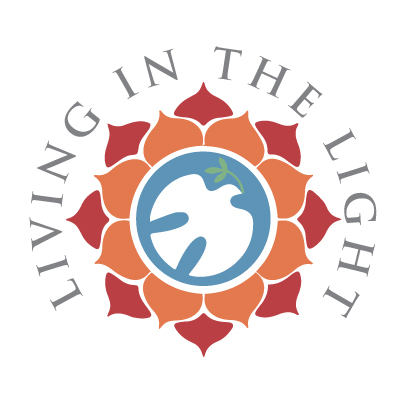 The Living in the Light community is for those who are serious about accelerating their spiritual growth and returning to inner peace.  Living in the Light means to live a completely authentic, loving, peaceful, joyful, forgiving, and healthy life in service to humanity.  It means releasing negative thoughts, doubts, fears, worries, limiting beliefs, and resentments.  It means giving the ego the boot :-).  It means loving all people, unconditionally.  It means completely surrendering to allow the Love and Light of God to consistently shine through us in every area of our lives, no matter the circumstances!  Does this sound like the way you are ready to live?  If so, continue reading!
What does the Living in the Light logo represent?
The Dove represents Love and Peace.  It is also a symbol of the Holy Spirit.  The lotus flower represents continuous spiritual growth.  We are truly Living in the Light when we allow the Love and Peace of God (the Light) to live through us, and to be all that we extend into the world.
What is included in membership in the Living in the Light Community?
Living in the Light community membership includes the following:
2 one hour live sessions per month including 30 minutes of spiritual teaching and 30 minutes of Q&A, live coaching, and discussion facilitated by spiritual life coach and author of From Stress to Peace, Kandace Jones (Sessions are held every other Tuesday from 9:00-10:00 pm EST; All sessions are recorded and made available to you for future listening at your convenience)
Access to resources and tools to deepen your spiritual practice
Introduction to new meditation, prayer and breathing techniques aimed at returning to the Peace of God
In-class exercises to facilitate the release of past hurts, fears, pain, etc.
Audios and videos to provide encouragement and support your daily spiritual practice
Ongoing Q&A and authentic sharing/discussion via the private online community page
New connections with like-minded individuals committed to Living in the Light, and willing to hold you accountable to your commitment to doing the same
Membership to a private Facebook group page to share with Living in the Light Community members
Ongoing, real-time, coaching and support as challenges arise on the path to consistently Living in the Light
10% off future Living in the Light offerings (classes, retreats, seminars, etc.)
What topics are covered in the Living in the Light community bi-monthly live coaching sessions?
See below for a sampling of the topics discussed on our bi-monthly calls.  In addition to these topics, we discuss real-time challenges being faced by community members and support one another in moving past resistance and staying on the path to peace.  It's a beautiful, safe space for healing and growth!
Practicing Self-Love

The Secret to Unshakable Peace
Building Your Forgiveness Muscle
Daily Practices to Accelerate the Dissolution of Ego
Creating Your Experience
Releasing Guilt
Powerful Self-Inquiry Questions for Personal Growth
What are members saying about the Living in the Light Community?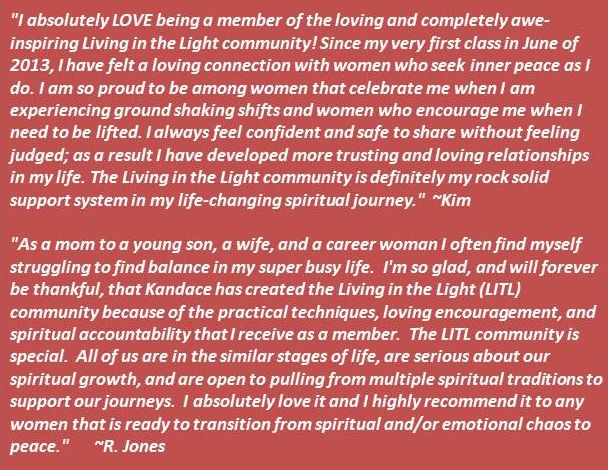 How much is membership to the Living in the Light Community?
All of this is being offered for just $33/month!
LIMITED TIME ONLY: Get 3 months FREE by reserving your space for the full year at $297 ($24.75/month)!
(Yes, you read that correctly!  Come on and join us before the price increases!  We'd love to have you!)
How do I sign up?
We're so glad you are interested in joining us!  See below for the payment link.  Upon registration, you will receive the dial-in information and will be granted access to the private Facebook group for the community.
 If you have any questions or would like additional information, feel free to email fromstresstopeace@kandacejones.com with the subject line "Living in the Light Community" and we will get back with you as soon as possible.
Living in the Light Community Membership ($33/month)
LIMITED TIME ONLY: Get 3 months of classes FREE and reserve your space for the full year ($297)
Like this logo?  Check out the Living in the Light Store for mugs, t-shirts, and other lovely items to sport this reminder of your commitment to Living in the Light!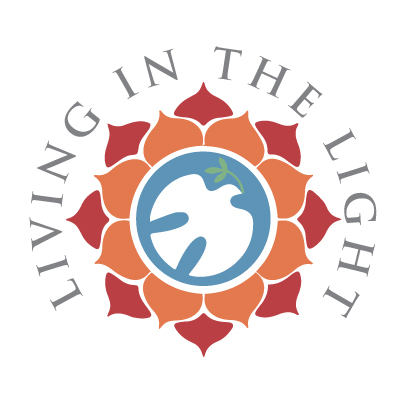 I look forward to supporting you on your journey to unshakable peace!  Much Love and Light!
Peace & Infinite Blessings,
~Kandace
———————-——
Kandace Jones
———————-——
BLOG: http://www.kandacejones.com
FACEBOOK: http://www.facebook.com/livinginthelight
TWITTER: @coachkandace
About the Facilitator: Kandace Jones

I used to live life shackled by fear, doubt, and worry. I put on a happy face while navigating my day-to-day duties, but I was emotionally drained, stressed, and unhappy. When I hit rock bottom, and was diagnosed with depression and anxiety, I was determined to live life differently. I knew there had to be another way. Out of that determination, and guidance from Spirit, the Living in the Light blog was born. It documents my spiritual journey out of the darkness and into the Light. After nine months of publicly sharing my journey, and consciously releasing my attachment to the ego, I experienced a powerful spiritual awakening. I went from living in fear, doubt, worry, and stress to complete inner peace. My greatest passion has become assisting others on their own journey to inner peace. Some of the ways I do this include the From Stress to Peace 21-Day Challenge, the Living in the Light blog, Living in the Light Retreats and the Living in the Light Community. My spiritual memoir, From Stress to Peace: An Intimate Journal on the Journey from Living in Darkness to Living in the Light, is coming in 2014. I can't wait to share it with you! I appreciate you taking the time to visit this page and look forward to supporting you on the journey to unshakable peace in any way I can!